5 Bold Taste + 6 Silicone Stretch Lids + Free Shipping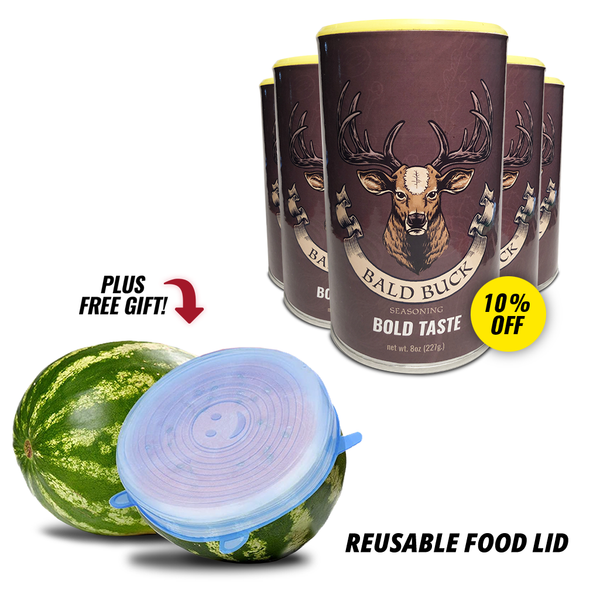 Get 6 FREE Silicone Stretch Lids  & FREE Shipping!
Bold Taste: A savory flavor that can go on anything! We really mean almost anything. You can put it on smoked meat, veggies, potatoes, eggs, bloody marys, etc.

Slow Burn: A savory flavor that has a variety of peppers. Slow Burn can also go on anything:  smoked meat, veggies, potatoes, eggs, bloody marys, etc. The main difference is Slow Burn is spicer. It is not a mean heat that immediately hits you. Rather, it's a slow, enjoyable heat that gets spicier, the more you eat. 

Get the best of both worlds when you bundle Bold Taste & Slow Burn!
FREE SHIPPING! 
*This seasoning does not contain gluten but there is gluten in the facility where this seasoning is packaged. 
Check out the Bold Taste ingredients in the picture below:
Silicone Stretch Lid 
✅ Convenient and Practical: 6pcs silicone stretch lids in different sizes to fit various sizes of food containers, making it easy to cover and store food.
✅ Eco-friendly and Reusable: Made of high-quality silicone material, these stretch lids are washable and reusable, reducing waste and helping the environment.
✅ Airtight Seal: The stretchy material creates an airtight seal, keeping food fresh for longer and preventing spills and leaks.
✅ Versatile Use: Perfect for covering bowls, plates, cans, jars, and even fruits and vegetables, these silicone lids are a must-have in every kitchen.
✅ Easy to Clean: Simply wash with soap and water or put them in the dishwasher for hassle-free cleaning.