This is my second whole chicken cooked with the Bald Buck rub. The first cook was so great, I had to do it again. There's a real "down home" taste and especially smell to this rub.
Michael C.

At it again!! Gonna be time to order some soon!
Tim M.

I made a 3lb butterball turkey breast in the RecTec Sunday. Injected with some melted butter and garlic and tried this rub on the outside. I loved it! Good flavor.
Kelly C.

Lovin it!!!
Tim M.

Your seasoning is amazing!! I love it.
John S

Your seasoning came in yesterday. I seasoned a pot roast while it marinated overnight. Bald Buck added a balance of flavors with an added burst of taste bud excitement! I'm a customer for life and can't wait to hit the grill this weekend.
Jason D.

OMG it was delicious! You guys really nailed it with the BB!
Brett R.

Bald buck was great, all my friends loved it . Will be ordering more soon.
Ron D.

I wanted to let you know that I enjoyed your rub very much. I tried it on some ribs and it turned out excellent.
Craig R
My wife and I loved the rub on the pork chops. I would recommend this to anyone. Has great flavor. Thanks.
Wayne R.
My dad made some bbq wings with it and all my kids said, beating wings of their lives!
Daniel M.

I put the bald buck rub on smoked chicken leg quarters and I added some to my goulash and it brings the flavor. Everyone needs this seasoning!
Derek F.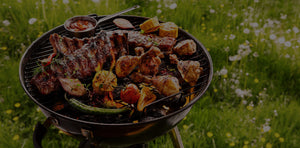 Set yourself apart with a bold taste with Bald Buck! Tag us with your bold taste review social media!