Bold Taste Bundle 5 + Free Defrosting Tray + Free Shipping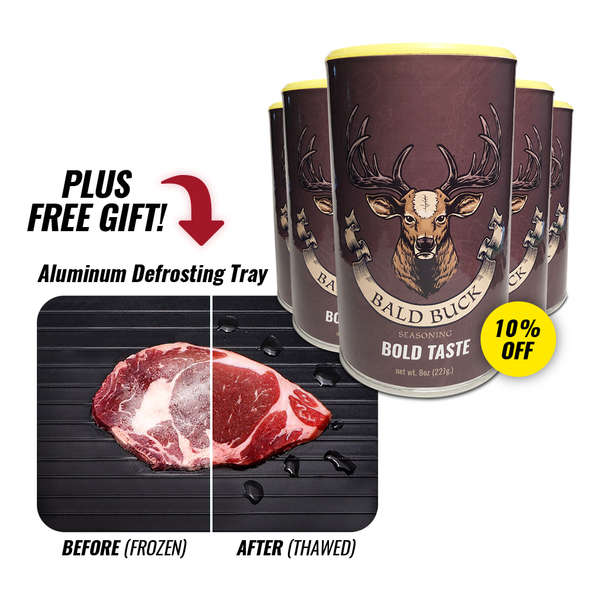 FREE Defrosting Tray & FREE Shipping!
Bold Taste: A savory flavor that can go on anything! We really mean almost anything. You can put it on smoked meat, veggies, potatoes, eggs, bloody marys, etc.

BoldTaste that will get you noticed by your BBQ guest! Don't settle for, "That was good BBQ." Instead have your friends saying, "WOW, what is this?! I never had chicken like this before! Tell me the recipe." Bald Buck is that good!
This seasoning does not contain gluten but there is gluten in the facility where this seasoning is packaged. 
Check out the Bald Buck ingredients in the picture below:
Defrosting Tray Description
✅  𝐃𝐄𝐅𝐑𝐎𝐒𝐓 𝐅𝐑𝐎𝐙𝐄𝐍 𝐅𝐎𝐎𝐃𝐒 𝐀𝐍𝐃 𝐌𝐄𝐀𝐓𝐒 𝐅𝐀𝐒𝐓𝐄𝐑: Crafted with intelligent aesthetics, our rapid thawing tray thaws chicken breasts, steak, pork chops, lamb chops, sausages, prawns, vegetables and more in less than half the time, depending on the thickness of food and room temperature. Saves you time and effort! For best results make sure your meat is as flat as possible!
✅  𝐏𝐑𝐄𝐌𝐈𝐔𝐌 𝐐𝐔𝐀𝐋𝐈𝐓𝐘 𝐀𝐍𝐃 𝐄𝐀𝐒𝐘 𝐓𝐎 𝐔𝐒𝐄: Made of high-quality 3 cm extra-thick aluminum, The defrosting tray is non-stick and is DISHWASHER SAFE. This is every kitchen lover's dream come true! An all-in-one thawing solution for the modern cook, incredible convenience and zero hassles! Easy to wash, durable and long lasting use after use! Simply place frozen food onto the tray!
✅  𝐇𝐄𝐀𝐋𝐓𝐇𝐘, 𝐍𝐎 𝐂𝐇𝐄𝐌𝐈𝐂𝐀𝐋𝐒 𝐎𝐑 𝐄𝐋𝐄𝐂𝐓𝐑𝐈𝐂𝐈𝐓𝐘 𝐍𝐄𝐄𝐃𝐄𝐃: As opposed to microwave ovens that partially cook the food during the defrosting process, our unique Thawing Plate is fast and sanitary and thaws frozen meats, vegetables and other foods in the most natural and healthy way without the use of electricity, water, microwave or batteries while keeping the essential Nutrients and Vitamins!
✅  𝐄𝐀𝐒𝐘 𝐭𝐨 𝐂𝐋𝐄𝐀𝐍/𝐔𝐒𝐄: It is non-stick and very easy to wash under rinse. Use a soft sponge or cloth to wash this tray for longer service life. Simply place frozen food onto the thawing plate and it will defrost faster. Tray size is 13 1/2 x 8 inches.