5 Bold Taste + Free Meat Claws + Free Shipping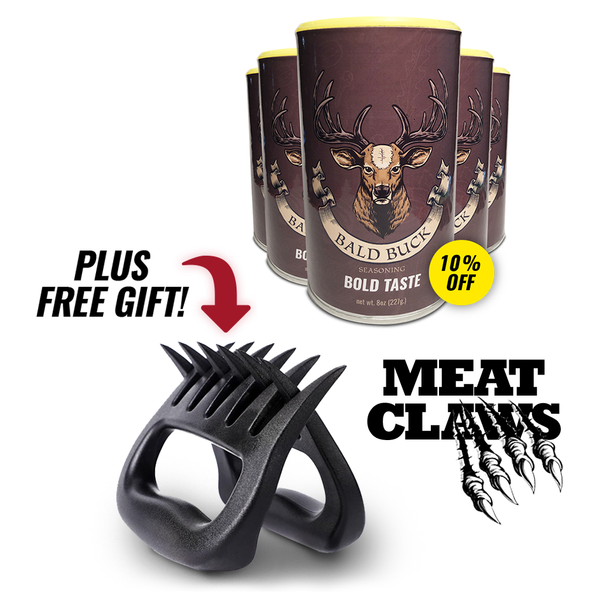 FREE Meat Claw & FREE Shipping!
Bold Taste: A savory flavor that can go on anything! We really mean almost anything. You can put it on smoked meat, veggies, potatoes, eggs, bloody marys, etc.

BoldTaste that will get you noticed by your BBQ guest! Don't settle for, "That was good BBQ." Instead have your friends saying, "WOW, what is this?! I never had chicken like this before! Tell me the recipe." Bald Buck is that good!
This seasoning does not contain gluten but there is gluten in the facility where this seasoning is packaged.
Check out the Bald Buck ingredients in the picture below:
Meat Claw Description
✅  The ULTIMATE Time-Saver: Meat Claws: Shred meat like a pro, minus the mess and fuss of knives and forks. Effortlessly grasp and tear through pork 🐖, chicken 🐔, beef 🐄, and more with our razor-sharp claws designed to make shredding a breeze.
✅  Heat-Resistant & Dishwasher-Friendly: Crafted from BPA-free nylon, our Meat Claws can withstand scorching temperatures up to 475 degrees. Say goodbye to melting tools by the grill 🔥 or in the dishwasher - these bad boys are built to last!
✅  A Joy to Use: Hoist, handle, tear, tug, and slice to your heart's delight. Our Meat Claws are perfect turkey 🦃 lifters and offer a safe, secure grip for managing those wickedly sharp shredding blades.
✅  Praised by BBQ Pros: Versions of the Meat Claws have been seen on BBQ Pitmasters 🍗, Guy Fieri's Diners, Drive-Ins, and Dives 🚘, and America's Test Kitchen 🍳. Versions of the Meat Claws have earned the title of "Best BBQ Tool" by the National BBQ Association.
✅  Authentic, American-Made Original Meat Claws: Setting the standard in BBQ accessories for years, our Meat Claws are 100% made in the USA 🇺🇸. Unmatched in quality and durability, we guarantee to elevate your BBQ game by 100%! Experience the epic difference of the one and only Meat Claws.