5 Bold Taste + Rotary Slicer + Free Shipping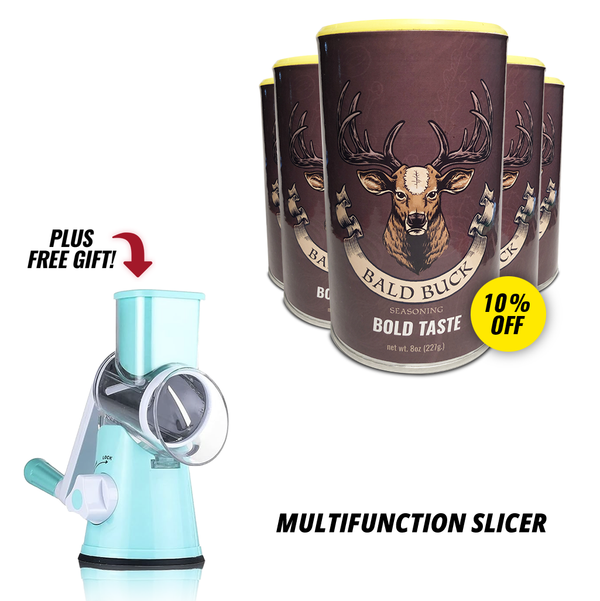 FREE Rotary Slicer & FREE Shipping!
Bold Taste: A savory flavor that can go on anything! We really mean almost anything. You can put it on smoked meat, veggies, potatoes, eggs, bloody marys, etc.

Slow Burn: A savory flavor that has a variety of peppers. Slow Burn can also go on anything:  smoked meat, veggies, potatoes, eggs, bloody marys, etc. The main difference is Slow Burn is spicer. It is not a mean heat that immediately hits you. Rather, it's a slow, enjoyable heat that gets spicier, the more you eat. 

Get the best of both worlds when you bundle Bold Taste & Slow Burn!
FREE SHIPPING! 
*This seasoning does not contain gluten but there is gluten in the facility where this seasoning is packaged. 
Check out the Bold Taste ingredients in the picture below:
Rotary Slicer
✅ Reliable Rotary Cheese Grater: This grater's blades are crafted from premium stainless steel, while the other components are made from BPA-free food-grade plastic. It operates without electricity, ensuring no direct contact with the blades.
✅  User-Friendly Cheese Grater Design: It boasts a robust suction base for stable operation on CLEAN and SMOOTH surfaces. Positioned at an angle, it ensures grated items exit freely, preventing blockages. It comes with three sharp circular blades: a slicer, a coarse shredder, and a fine shredder.
✅  Versatile Rotary Grater: This hand-cranked device is perfect for grating cheese, vegetables, potatoes, nuts, and onions. It's ideal for preparing coleslaw, hash browns, salads, and pizza toppings, among others.
✅  Efficient Manual Nut Grinder: This grater enhances food prep efficiency with minimal exertion. Its 360-degree rotating mechanism means a single turn is equivalent to 12 cuts.
✅  Compact & Easy-to-Clean Slicer: This multi-purpose manual grater conserves kitchen space. Dismantling for cleaning is straightforward, and it's easy to rinse under running water.